Casino Installations
Autumn 2011 and through 2012 saw HiQ Sound complete several installations for Genting Uk an international company based in Malaysia. Genting had recently taken over the Stanley Casino brand and wanted to create new Casino Clubs in the Uk and re-furbish many of the existing Casinos and we were fortunate in securing the work on some of the large new builds.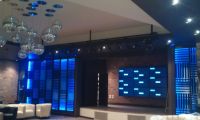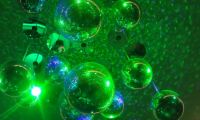 The main requirement was for High Definition video distribution to multiple screens including video walls, audio distribution throughout the venues and stage & dance floor lighting and sound systems to a high standard. These installations took place in Derby, Leicester, Manchester, Liverpool and with the largest new build in Sheffield.
Sheffield Main Stage shown left featured like most of our Casino instalations the new HiQ Sound Line Source PA System, chosen primarilary for its low sight line impact superb venue coverage and of course sound quality, Bass is supplied by 2 of our 1500W 2x12" push-pull cabinets . Front end is a MixWiz 16:2 live desk and DJ kit by Pioneer.
The lighting Rig is a combined stage and dance floor system using very efficient LED tri-light Par 56 cans and 150W moving head units driven by a Pulsar Light Masterpiece Replay unit for simplicity of control. the cluster of Mirror Balls illuminated by the Moving heads is stunning.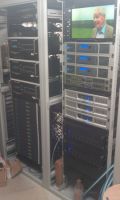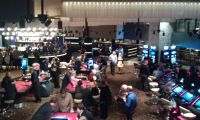 The Equipment racks in sheffield featuring the Atlona HDbaseT 16x48 Video matrix with 1080P video distibution to all screens via Cat6 cabling, in some cases over 100m was achieved. The Audio control is via Cloud Electronics DCM1's three of which were required to cover the 12 zones.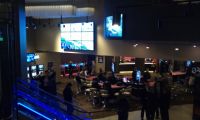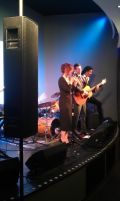 The Main Gaming floor audio at Sheffield was again acheived with the use of just 2 HiQ Sound line source systems which provide very even coverage and coupled with their matching bass cabinets give the venue the ability to run from background levels to nearly club levels when required.